Blog
St. Xavier Bombers becoming one of the healthiest teams in America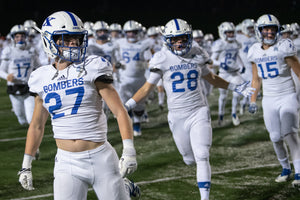 2016 was the wildest year in St. Xavier football history.
The all-boys private school located outside Cincinnati has long had a strong program, but when they limped into the 2016 OHSAA Division Playoffs sporting a 5-5 record, no one expected much. The Bombers then proceeded to win five consecutive games (including four come-from-behind victories) to capture a state title. They remain the only 5-loss team in Ohio history to win a state championship.
Despite the storybook ending, Michael Gordon, longtime St. Xavier Athletic Trainer, knew something had to change. It sounds counterintuitive—if it's not broken, don't fix it, right? Well, that was the problem. The Bombers were broken in the most literal sense of the word, as starters or potential starters missed a staggering combined 156 games due to injury that season. Some were due to the kind of freak accidents unavoidable in a collision sport, but Gordon believed it was within the team's power to drastically reduce that number.
"We played 15 games, so that's 10 players a game that would've played or been in the mix to play, who were not playing that game. Any coach is going to see that and say, 'Holy crud, what happened?" Gordon says.
Prior to the 2016 season, the team had bought into GPS tracking technology for their football program. They purchased 15 units and equipped their most essential players with them for every game and practice. As Gordon and his team dove into the data after the injury-riddled season, they made a startling discovery.
"What we found was that our volume was significantly higher on Thursdays than we could've ever imagined," Gordon says. "We were burning guys out, burning out their legs. We do everything in our power to get recovery to peak on Friday so we have guys in tiptop shape for Friday night. But what we were doing was sending a mildly exhausted or tired athlete onto the field on Fridays that we'd just run really hard on Thursdays."
The reason for this oversight was because at a glance, St. X's Thursday practices seemed light. They were short (only about 75 minutes compared to the 120-minute practices on Monday, Tuesday and Wednesday) and the hitting was kept to a minimum. Yet GPS tech revealed the workloads for starters were significantly higher on Thursday than any other practice day. When Gordon began to investigate the reason behind this phenomenon, the cause came into focus.
"What we found was our ones and twos and sometimes our threes would get reps on Monday, Tuesday and Wednesday. The ones would gets a few reps, then the twos a few reps, then sometimes the threes would get reps," Gordon says. "But on Thursday, it was just the ones."
This is not uncommon among football teams. While the early part of the week sees reps distributed more widely (particularly during team periods), as game day approaches, coaches want to confirm the 1s have fully mastered the game plan. To do so, reps for starters increase, while reps for back-ups decline.
"We were seeing our heart rate exertions and our high-speed volumes were significantly higher on Thursdays because the ones were taking every single rep. Their heart rates weren't getting a chance to recover. On Monday, Tuesday, Wednesday, guys would recover, go play a couple plays, recover, go play a couple plays," Gordon says.
"(On Thursdays) they'd go from rep to rep to rep and it was non-stop cardio for an entire hour, 27 hours before a game would be played."
Gordon brought the issue to the attention of St. Xavier head coach Steve Specht, who was fully onboard with creating a smarter practice schedule. "We ended up changing how we structured our entire week. We changed what we did from a teaching standpoint, how we set up different drills with our guys. Our coaches bought in," Gordon says. "We more front-loaded our reps on Monday and Tuesday and (didn't) necessarily have as much volume as the week went on."
The result? The number of games missed due to injury decreased from 156 in 2016 to 21 in 2017. That's 135 fewer games lost to injury. Gordon is quick to point out that the revised practice schedule was only one piece of the puzzle and that luck remains an unavoidable part of the injury equation, but the new schedule led to both anecdotal and objective improvements.
"Guys were fresher, guys felt fresher that were there for both years. Guys felt like during a game their legs were a little fresher and stronger. And obviously that also comes from offseason lifting and all the things that go into that," Gordon says. "(But) we had a really successful season, wound up making it to the regional finals and just got beat by a really good team."
From 2017 to 2018, the Bombers continued to tweak their preparation, drawing crucial intel from GPS tracking technology. The 21 missed games in 2017 trickled down to just 11 in 2018. Obviously luck has been on their side, but the team has embraced controlling every factor possible to serve the ultimate goal of delivering the freshest, healthiest roster possible on those fall Friday nights. An additional team objective is to get in stellar shape during the off-season so guys don't need as much conditioning during preseason camp.
"If we train really well in the offseason, we don't need to grind to the place where we're grinding these kids down to a pulp and they're not able to function when the real games come around," Gordon says. "It's really a team effort to limiting injuries in a season, from the head coach and his plan, to the strength and conditioning experts and their plan, as well as the athletic trainers who have a role in looking at the big picture as well as the day-to-day. Everyone plays a role."
St. Xavier athletics recently transitioned to Sports Performance Tracking as their GPS technology provider. The Australian-based company has created the simplest team sports GPS tracking device available today, and at a fraction the cost of many previous devices.
"It's been a really smooth transition for us and I'm excited about the possibilities of where the technology will go in the future," Gordon says. If you're interested in learning how GPS technology can benefit your team, you can learn more about the SPT2 and get a quote for a team rate at SPTGPS.com.
Photo Credit: Milt Wentzel
Author: Brandon Hall
Original article: Their Players Missed 156 Games Due to Injury in One Season. Now They're One of The Healthiest Teams in America - Stack.com