Blog
Top 3 Errors Amateur Coaches Make When Using GPS Technology And How To Avoid Them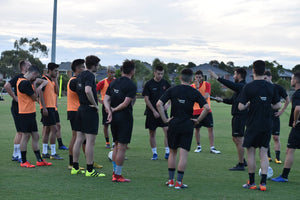 GPS technology is the next step many clubs make to help level up player and team performance. We delve into some of the common mistakes amateur coaches can make when utilising GPS technology for the first time and how to best avoid them.
1. Not utilising the power of week to week data comparison
GPS data is only as useful as the way it is analysed and learnt from. Many coaches will find themselves suddenly overwhelmed with player data and the knowledge of best practice ways to utilise it.
One of the most useful ways to learn from GPS data is to compare a player's data week to week.
Comparing a player's training and game day stats from week to week is a simple indication on whether the player is hitting their benchmarks, or falling short. The comparison can even inform a coach if the player is pushing their body too hard which then puts them at risk of injury. Injury prevention is targeted by looking at the quantification / comparison of players' work load and ensuring that it is maintained within their perceived 'safe zone'. This aids in decreasing injuries and also optimising performance.
2. Not reaching out to their immediate network for support
It is always helpful for a coach to have a support network around them to ease the understanding and processing of performance data to aid designing training drills and game day tactics.
Coaches' roles are incredibly diverse and especially within grass-root and amateur leagues where coaches have to be incredibly adept at multi-tasking. Having another member of the coaching team to assist in breaking down data analysis will not only be a time saver but will help a coach to make quick and informed decisions on game day.
With a strong team to surround them, and coaching staff that are fully invested in utilising the benefits of performance monitoring, coaches can guide the development of their players, especially their younger players who need specific guidance to help them achieve and push past their personal goals.
3. Not getting down to basics
To get the full benefits of GPS tracking technology, a key piece to the performance puzzle, coaches should take the time to sit down and become confident with their chosen sports performance tracking platform.
SPT's analysis software, GameTraka, provides a simple and user-friendly interface that is designed to be able to be used by everyone, not just a trained sport scientist. To help new coaches on their way to creating a team that is both physically and technically ready to succeed, SPT launched SPT University.
SPT University provides free video courses that cover all you need to know about SPT's product offering as well as offering more in-depth courses that educate users on the fundamentals of sport science. The information learned through the University will ensure that every time you use your GPS, you are ready to stop guessing and start measuring.
To experience a free demo of the GameTraka software, click here.
For any other questions regarding GPS technology and how it can benefit your team, get in touch.