Blog
University of Cape Town Rugby Look Forward to Success in 2020 Season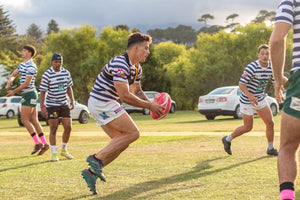 "We are 3 weeks away from completing our preseason and we have prepared better than ever".
Coming off a difficult 2019 South African Varsity Cup campaign, the University of Cape Town Rugby Club (Ikey Tigers) made changes to their coaching staff who will look to bring back the winning mindset for 2020.
SPT spoke to Sean Lucas who serves as Strength and Conditioning Coach for the Ikey Tigers where he is using SPT GPS to monitor and develop player performance.
"I joined the Ikeys in 2017 doing the on-field conditioning for the Varsity Cup Campaign and now look after the full Strength & conditioning Program for the Clubs First Team for the Super A League and Varsity Cup campaign as well as over-seeing the u20 Program."
2019 was a roller coaster season for the Ikeys. The team missed out on qualifying for finals rugby in the Varsity Cup but turned things around to end up second by only 2 points in the Super A League Club Competition to rivals, Stellenbosch University. The Ikeys then went on to successfully secure and defend their title at the World University Rugby Cup in Japan which they previously won four years ago at the inaugural tournament in Oxford, England.
"Winning back-to-back World University Rugby Cup titles is an indication of the strength not only of UCT rugby, but South African rugby on the whole. This Ikeys squad have come to Japan and made a huge statement on the international stage, setting the benchmark for university rugby world over." said UCT RFC Club Director, Johnny Biderman-Pam.
Now looking forward to the 2020 season, the team is looking to utilise the benefits of performance data to prepare the players better than ever.
"With the level of competition and the amount of games and training you have to do, the technology allows you to guess less, prepare better and be more accurate with our training," explains Lucas.
"We use the data collected for planning training, we believe how we train is directly related to how we perform, so we spend a lot more time planning training than training," says Lucas.
"The data allows us to be more accurate, set outcomes and see if we have achieved them. SPT provides simple and effective data capturing for our players which is vital to our rugby program."
When it comes to engaging and interacting with performance data, the Ikey players enjoy and appreciate the benefits of GPS data when it comes to performance optimisation and injury risk reduction and acknowledge that technology is one part of the larger performance picture.
Lucas and Cape Town University also know there is a much bigger picture when it comes to supporting their community.
"We have a program called Vusa – it's a development program where coaches from under privileged areas come and shadow us as well as the players in the team," explains Lucas.
Coaches will go out to rugby days and help coach in communities with fewer resources and share the development of rugby in Cape Town.
Biderman-Pam commented: "UCT is proud to be associated with such an incredible initiative, and it's heart-warming to see how rugby plays such a big part of the positive change in the kids' lives. At UCT RFC, we believe that rugby can be a powerful medium for achieving social upliftment."
SPT look forward to seeing the Ikeys go from strength to strength in both Super A League and Varsity Cup rugby.
Click here to find out more about utilizing athlete tracking at your rugby club.