Blog
Weber State University Taking Advantage of SPT Technology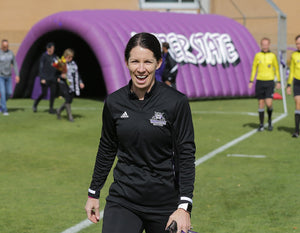 Located in Ogden, Utah, north of Salt Lake City, Weber State University Women's Soccer is an NCAA mid-major program committed in providing its players with the best tools to help fulfil their potential.
Weber State Hall of Famer, Meagan Thunell took over the Head Coach position in Summer 2019. A standout player for the Wildcats from 1998 to 2001, Meagan is the all-time career leader in saves and shutouts and also owns the WSU record for Consecutive Scoreless Minutes at 490 minutes, 34 seconds. The streak spanned seven games in 1999.
In her previous 14 seasons as an assistant with the Wildcat soccer program, Thunell always recognized the value of GPS tracking data but was deterred by the assumption of GPS systems being cost prohibitive and also providing an overwhelming amount of data which the coaching staff did not have enough time to become experts in complicated data analysis.
However, the interest in GPS technology led Thunell and Weber State to Sports Performance Tracking. "Once we were presented with the cost of the SPT monitoring system along with the simplified, highly relevant and necessary data, the decision to introduce GPS became much easier," says Thunell.
By using SPT, the team is able to support their training plans with performance data and use it to push individual players as well as the team as a whole to constantly improve.
"Throughout the season, during training and games, it was nice to have comparable data and see each player's workload. It certainly became instrumental in decisions regarding the level and duration of trainings. It also served as a motivator for players, as they knew that their hard runs, sprints, etc. were being tracked and compared to teammates within the same position," Thunell explains.
Looking at the performance data, the Wildcat coaching team analyze certain key metrics to develop training plans and set player benchmarks.
"We have utilized all of the GameTraka metrics in some way but generally use the distance and work rate metrics the most. We utilize these to determine how much additional fitness players need to do if they didn't play full minutes," says Thunell. "We can easily average distance and work rate by position and come up with acceptable fitness plans for players who played fewer (or no) minutes."
Weber State continues to utilize SPT technology and moving into future seasons, they are excited to see the positive affects it has on their players as they continue to develop and push past their potential.
To learn how your soccer team can benefit from SPT GPS technology, click here.