Blog
Why Football State Champions Use Performance Tracking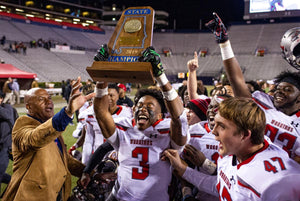 In December 2018, Central-Phoenix City Football rolled over an injury-riddled Thompson Football team to win the Class 7A state title at Jordan-Hare Stadium in Alabama, USA.
In order to get their injuries under control and have better understanding of the demands placed on their players, the coaching team headed by Mark Freeman, invested in SPT performance tracking technology at the start of the 2019 season.
"The biggest reason we decided to purchase the SPT system was the safety of our players which has always been our number one priority", explains Freeman. "It helps us monitor everyone during hot days as well as making sure that we aren't working them too hard to reduce the likelihood of injuries."
With High School Football being such an important step in the professional aspirations of any young athlete and their career journey, Freeman uses the data to compare what his players will be doing in College and ensure that they are ready to take it on and succeed when they get there.
"A lot of our players will get to the next level, so we want to make sure that we are preparing them the best we can to help them excel".
Throughout the season, it was a matter of making sure the team had a consistent and efficient training plan in place that allowed them to peak on game day.
"We wanted to get smarter with what we were demanding of our players in games and practice to ensure we are getting the best results on Friday nights," says Freeman. "We want to make sure that we are training throughout the week for what the demands of the game on Friday are."
And what a difference a year makes.
Last December at the same stadium with the same schools playing – the roles were completely reversed. Thompson outplayed Carson to win the Alabama 7A State Championship 40-14. The win gave the Warriors just the second state football title in school history and the first since 1982.
Wide Receiver JB Mitchell said, "We went back into the offseason, trusting each other. We knew the matchup tonight, and we were prepared. We worked hard together."
With such an impressive season had by Thompson, Coach Freeman was recognized as National Coach of the Year for the state of Alabama.
"We practiced the same way for ten years, now with SPT, we can make educated adjustments throughout the week to noticeably increase our efficiency. By adjusting our workload, we are able to get increased performance from the players."
To explore the GameTraka software demo and see how performance data can improve your team, click here.