Arizona Rugby "Takes the Next Step" with SPT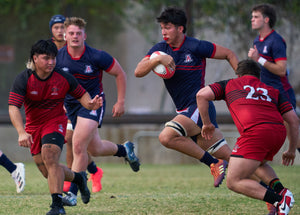 Since the club's inception in 1969, Arizona Rugby has cemented itself as a prominent force in D1A College Rugby. The program has produced countless All-Americans and numerous Wildcats have gone on to represent their country and compete on the National and Olympic teams. Heading into their fourth season with SPT, Arizona Rugby consistently holds a spot on the national rankings for both 15's and 7's and competes for a PAC title against some of the toughest competition in the country.
We recently got the chance to ask head coach, Sean Duffy, how he's been able to leverage SPT and the GameTraka software to keep his players fresh and ready to compete throughout the rigorous seasons.
"SPT has been a game-changer when it comes to managing workloads and periodization. We play a lot of matches year-round, so making sure our athletes are staying on schedule has allowed us to maximize their efforts while ensuring we don't overdo the workloads."
"We use SPT for all training and matches. Being able to work with our kit providers to ensure our match jerseys have pouches for these helps a lot. Another great feature is being able to get real-time data in a training session or matches. Being able to use that data to make good decisions is huge."
The use of GPS tracking data is becoming more and more prevalent in the world of rugby, so we capped off the conversation by asking, "Why choose SPT?"
"SPT was one of a few companies that we engaged on this topic, and I was struck by the emphasis on customer service and their rugby roots. In our elevated environment here, I'm able to speak with a number of our teams on campus, notably Football. Seeing how they are able to use GPS effectively and speaking to our alumni in the professional ranks, we knew this was a must for us to take the next step."
Go Wildcats!
Reach out for a team quote and help your program take the next step!