Blog
Davenport University Rugby Look To Win Their First D1A Title With Performance Technology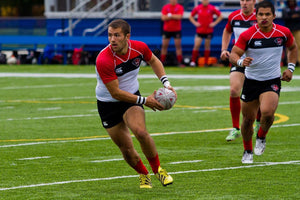 Davenport University Men's Rugby program is in its 10th year with the team starting out in the D1AA division, winning back to back National titles in the 2009/2010 and 2010/2011 seasons. The team started using SPT performance technology in 2019 to optimise performance, reduce injury risk and support player rehabilitation.
With the team now in the D1A division, they have consistently ranked in the Top 20 in the country and their Rugby 7's program has two bronze medal placings from the 2017 and 2019 7's Nationals. According to Head Coach, Lance Hohaia, providing an environment where his players can grow and excel is extremely important and the introduction of SPT technology is an integral part of that.
"The coaching staff at Davenport have been exposed to the benefits of GPS tracking during their playing and coaching careers so it was an easy decision from that perspective. The data allows us to structure more effective training sessions to keep the guys fresh and engaged, establish benchmarks for our team, improve our tactical analysis, provide objective feedback for our players, manage workloads for certain individuals and compare player performances," explains Hohaia.
"On top of that we wanted to create a professional environment for the team where we deliver us much information about training and match performances as we can for our student athletes."
Using SPT for the rugby programs athlete monitoring, Hohaia has found the technology to be a vital tool to analyse performances and training sessions throughout the season.
"It has been great, we really enjoy the functionality of the units and the Gametraka software. It's easy to interpret and we have found it invaluable for tracking certain metrics that we like to keep an eye on."
With the team eagerly looking to get their hands on a D1A National title, the added advantage of performance technology is helping establish a well prepared and conditioned team ready for success.
"We have thoroughly enjoyed our partnership with SPT, the data we collect has helped us tremendously on the pitch, our athletes love the feedback they receive, and they have seen the value in having such technology at their fingertips. We recommend SPT to any sports program looking to take their game to the next level."
Interested in finding out how you can use SPT GPS tracking at your club? Click here to get in contact with our team.