FDU Invests in GPS Tracking to Win First NEC Championship in 5 Years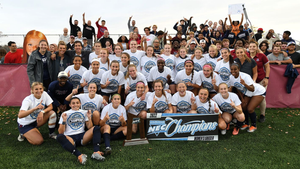 Fairleigh Dickinson Women's Soccer has made the NEC championship in  4 out of the last 5 seasons but has not achieved that final goal, raising the trophy and banner. Despite coming into the tournament as the #4, FDU believed in what they had been building all year long.
After a 2-1 victory at home vs Saint Francis, the Knights traveled to NEC Confernce jaugernauts Central Connecticut who had won the last 4 NEC Conference titles in a row. FDU scored twice in the second half to reach the NEC title game and upset CCSU.
In true championship fashion, the game came down to PK's where FDU place all 5 penalty kicks in the back of the net vs 4 from Sacred Heart, winning the NEC Tournament Championship and sending the Knights to the 2022 NCAA Playoffs.
We had the chance to catch up with Coach Eric Teepe to learn more about how GPS tracking helped this program achieve new heights this season!
Why did you decide to invest in GPS tracking for your program?

"We were using another product and were looking for something that would give us more detail and also quality customer service, both worked out great for us."


What were the main GPS metrics your staff looked at?

"For us, seeing our training load and sprint breakdowns gave us firm idea on players readiness."

In SPT coaches and players can evaluate how much load athletes have incurred so they can better manage them and reduce risk of injury. A key factor to winning championships is a healthy team late in the season!



This was your first NEC tournament championship since 2015, what changed this year that lead to such a great success on the pitch?

"We have been in the final four of the last five years so every little detail aids in finding a way to climb over that hurdle. They all matter and using this product was no different."