Schools
New Providence High School Invests in GPS Tracking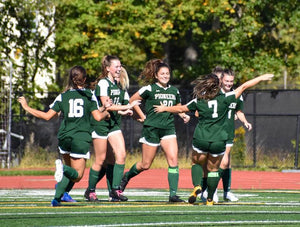 We caught up with Scott Murphy, Head Girl's Soccer Coach at New Providence High School in New Jersey to ask about their use of SPT and GPS tracking at the high school level.
Why did you decide to invest in GPS tracking for your program?
We were looking into more ways to enhance our player development and performance. A few years ago we started using video analysis, so we thought GPS trackers would be the next step. Using the GPS trackers allowed us to create different training sessions for our players based on their data from the game the day before. Some players needed to recover, while others were able to train harder. We also wanted to have useful data our players could see and use as motivation to set personal goals as the season progressed.
How has GPS helped elevate your program?
There are certain metrics we have focused on, especially this past season. Our schedule this season was very condensed, with many 3 game weeks. The data we received from the trackers allowed us to monitor the intensity of our training sessions to help avoid overworking our players. The game data and heat map helped us make game to game adjustments, such as substitution patterns. We have not tried using the live data aspect, but that is something I want to explore next season. That is just another piece we can use to monitor the work rate of our players.
How have your players responded to wearing the vests?
We had a few issues when we first started using them, but now the vests are now a part of their uniform in training sessions and games. They enjoy wearing them as the vest is comfortable and non-restrictive.