Soccer
UCSB Men's Soccer Uses SPT to Help Win First Big West Title in 12 Years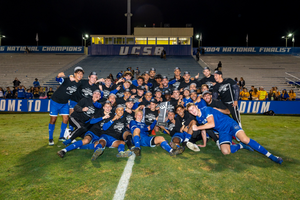 Santa Barbara, CA - Two years ago, Sports Performance Tracking welcomed UCSB Men's Soccer to the SPT family. It has been 12 years since the last time the Gaucho Men's Soccer team won the Big West. Head Coach Tim Vom Steeg decided to change GPS providers to Sports Performance Tracking in an effort to restore UCSB Men's Soccer to greatness. We caught up with the UCSB Staff to hear how a small GPS tracking unit has completely changed this program, brought 20+ wins, a 2021 Big West Championship and a repeat berth to the 2022 Big West Championship.
Vom Steeg said "With our GPS trackers, we can monitor their activity and assess whether they are pushing themselves too hard without allowing time for their body to recover. The tracker removes the guesswork and provides specific numbers and metrics to assess our player's performance and durability. This allows us at UCSB to push players when needed and hold players back that are overloaded".
Vom Steeg continued, "Due to the data the trackers provide on each individual player, a personalized training program can be created that builds on the individual's specific needs. This is especially helpful in our return to play process for injured players. Knowing max sprint speeds from the trackers and using that to build players back to their maximum output.
Overall the trackers help us identify problems and seek out solutions to best help our team and keep them competitive."
What are the main metrics that the UCSB Staff look at daily?
"We look at 3D Load, Total Distance, Hard Running, and Sprint Distance on a daily and weekly basis. After training sessions and matches, we will look at those metrics plus Hard Running Efforts and Sprint Efforts at our team set speed zones," said Brandon Valley, Sports Performance Assistant. 
How has GPS data impacted your conversations as a staff?
"We have used the GPS units to drive conversation with our high minute players going into match day -1 and -2 and then our non-starters/low minute players to keep them physically ready for minutes. With our sports performance department, we look at a weekly view going into our first training session of the week to decide what specific work the players need to stay fit," said Valley.
How has SPT's GPS helped return your athletes to competition?
"We have used the GPS units to guide our return-to-performance protocol this season. With those that have sustained injuries throughout the season, we have been able to inform our decisions daily to prepare our guys for the demands of our playing style. Having accurate data from Work Rate, Hard Running, and Sprint Distance have helped us to have a proper progression back onto the field and to reduce the risk for reinjury."
Is there a specific situation where GPS data helped your program?
We had a specific game earlier in the season where multiple starters dealt with fatigue issues and cramping. Using the data, we were able to identify an irregularity in training on match day -1 and -2 with those specific starters. Having normative data for training leading up to matches, we have been able to keep our starters fresh as we prepare for the Big West Tournament.
How have the athletes responded to the data?
"The guys have been very receptive to wearing the GPS units every day for training and matches with certain athletes constantly asking about their numbers. Having leaderboards in the locker room after every training session and match has helped to build buy-in as soon as it was implemented."
Quotes and testimonials are from UCSB Head Coach, Tim Vom Steeg and UCSB Sports Performance Assistant, Brandon Valley.