How GPS Tracking Helped University of St. Thomas Transition from D3 to D1 and Win the Pioneer League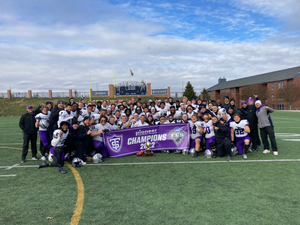 St. Paul, MN - Two years ago, the University of St. Thomas began the move from Division 3 athletics all the way up to Division 1. For the football program, that meant leaving more than a decade of conference titles and multiple national championship appearances and setting sights on new goals. 
UST Football.mp4 from SPT on Vimeo.
From facilities to equipment to technology, everything is different at the next level. Last year, led by Director of Strength and Conditioning Jon Haugen, the UST Football program purchased GPS tracking to monitor athletes. 
Why did you invest in GPS tracking?
"From going D3 to D1 we wanted to make sure that we took every step possible to ensure the development of our athletes. With a team like football, normally we have 140-150 guys on the roster can only have 110. We are looking at practice loads, athlete loads and trying to reduce our risk of injury. We also want to make sure we we are ready to perform on gameday. When you look at the return on investment, to us it was a no brainer."
How do you use GPS on a daily basis?
"We look at player individual load and positional load to have communication with our coaches. If there is player who spiked and we need to back off practice to reduce their load or looking at practice loads and where the team is as a whole, with the mindset being that we want them to be the best prepared for gameday."
Can you share a specific situation where GPS helped you make a decision?
"We have a safety that had a high game load and going into the next week in preparation for the next game, we talked to the coaches and decided we were going to scale back the amount of team reps he was going to do (back to 25%) for that first practive back. It helped him have better recovery going into the next week."