Blog
GPS Tracking Creates More Competitive Players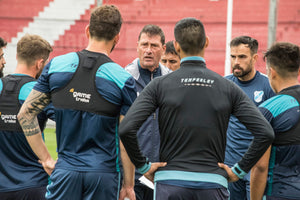 Athletes in any sport are instilled with a competitive instinct and it is this instinct that drives them them to succeed. Without performance data, coaches work on assumptions. They risk overworking or underworking their players which can result in an under performing team on game day, negating their player's competitive instinct.

During a match, there is an opposition, an audience, a scoreboard. All of them are factors that drive a player's competitiveness. In training however, these elements are all absent. That's where GPS steps in. GPS tracking evolves a team's performance culture, establishing a motivational feedback-driven performance environment. Coaches can use it as a psychological tool to promote healthy competition against opposition teams as well as within their own team to drive improvement.

"GPS provides athletes with a clear picture of their performance, which can be a real eye-opener for them. The results help them to gain a more complete understanding of what is required to perform at their best. Once players can see their stats, they able to create performance benchmarks which not only create competition to beat themselves week to week, but competition to beat players in similar positions" explains Andrew Gray, Physical Performance Manager at Cronulla Sharks Rugby League Football Club.

Coaches can provide real-time information and feedback to their players on how they're tracking week to week. This direct communication is essential to create a climate of competition, accountability and self-awareness, helping their players focus on improving their performance every day.

Player's GPS performance data is laid out in front of them and they can't hide if they are under performing and can't complain about not being selected for the starting team because they know their stats are within their own control. This feeling of control also enhances their motivation to perform and succeed. Excuses are eliminated and all player's within the squad become focused on improving. Every day, coaches analyse the data, and every practice, the players have the opportunity to prove they deserve to be in the starting lineup. 

By creating an environment that enhances motivation, players become engaged in each practice. This increased engagement leads to greater effort, and greater effort creates the potential for even more improvement. With motivated players, and a competitive environment, the entire team improves as a whole throughout the season.

With GPS data, the more one player's stats improve, the more the others want to improve because of their competitive instinct. The benefits are not only seen in the performances of individual players but also the team as a whole and this strength in depth can be vital for achieving success throughout a long season.

Click here to learn more about SPT GPS and how can be used for your team.