Grand Valley State University Football Team Switches To Sports Performance Tracking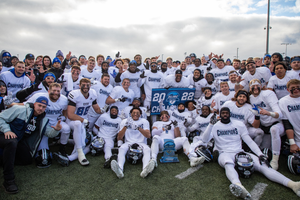 In the summer of 2022, the Grand Valley State University Football team decided to switch GPS tracking companies to Sports Performance Tracking. The GVSU Lakers compete in the toughest conference in all of NCAA Division 2, the GLIAC. The Lakers started the season with wins against #4 Colorado School of the Mines and #21 Colorado State Pueblo. After defeating both nationally ranked programs, the Lakers faced the 2021 D2 Defending National Champions, Ferris State Bulldogs and then #1 team in the nation. The Lakers beat the Bulldogs 22-21 in an instant thriller on the road in Grand Rapids. This launched GVSU to the #1 team in the nation and a perfect, undefeated regular season. 
With GPS tracking, the entire staff has the ability to understand athlete daily workload to make sure every player is competing at their peak for each game and their risk of injury is as low as possible. 
The GPS data at GVSU is used from the coaching staff to the strength and conditioning staff to the sport scientist. We caught up with the GVSU team to learn about their use of SPT. 
"SPT has been a valuable resource for our program.  The depth of the data allows me to have great conversations with our staff in strength and conditioning, athletic training and sport science.  As a result, we have been able to plan out our workouts and recovery over the 17 week season to be our best on Saturdays and keep our soft tissue injuries down." Head Coach, Matt Mitchell.
"The data we obtained from the SPT system was critical to the success of the football team and the players. We used the data for two primary purposes; to better understand our game day preparations and to identify trends in our game performances. Each week we reviewed the data to ensure the players were being prepared as best as possible throughout the practice week for game day, and we looked over game data to identify any developing trends over the season." Ross Sherman, PhD CPSS, Sport Scientist.

"As the strength coach, it was a great tool that we utilized in our week-to-week training, both in the weight room and on the football field.  It allowed us to get great performances from our players over a long football season." Matt Flutur, MS CSCS, Strength & Conditioning Coach.