Blog
Inside Lockdown with Australian Women's Lacrosse Part 2: Olivia Parker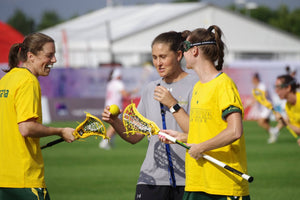 With team sport training on rise since COVID-19 restrictions have eased, we are seeing athletes exposed to an increased risk of soft tissue injuries. With many athletes having to stick to weight training or training bike sessions to keep fit in lockdown, the exposure to contact training and game-like simulations have come as a shock to their bodies.
Following on from our chat with Hayley Sofarnos, we reached out to Australian Lacrosse midfielder and teammate, Olivia Parker, to find out about the strategies implemented during lockdown to ensure the team are as close to game ready as possible.
Olivia was born with a lacrosse stick in her hand! Her father played lacrosse in his youth and passed his passion for the game onto Olivia and her two older sisters. With the experience of an U19 World Cup in 2015, she knows the hard work needed to be able to step onto the world stage alongside her teammates.
Olivia has taken advantage of the COVID forced 'down time' to stop and reflect on her past year. "It has been an interesting adjustment as I'm someone that is hardly ever home as I'm always at training or work. I have felt like the last two years have been a massive rush for me and I haven't been able to stop and think about my mental state" explains Olivia.
"I have been reading a lot more around building my mental game rather than just my physical game all the time. One thing I have learnt playing at such a high level or really at any level, your mental toughness is just as important as your physical. Something I have been meaning to work on since my 2015 World Cup to be honest, but I have started to read a lot more books around building resilience and leadership. The books we have been reading as an Australian squad are Dare to Lead by Brene Brown and The Resilience Project by Hugh van Cuylenburg, which I recommend to anyone - they are incredible."
Physically, the team adapted to training remotely very quickly when restrictions were first implemented. The coaching staff ensured they had procedures in place to cover the needs of their athletes.
"Our strength and conditioning coach, Sean Baker from Peaq Conditioning, had a home program written and in our emails within days of the new protocols being put in place. He has been great with keeping our strength and conditioning on track to keep us in good condition so that when we do come out of isolation, we are ready for our next tournament as a squad" says Olivia. "And, to be honest I'm pulling up just as sore doing these home programs as I was in the gym!"
Head Coach, Trish Adams, has made sure the team has remained connected and accountable through various methods including the introduction of SPT performance technology.
"Connecting as a group online is something we are used to as an Australian team with the majority of our team spread across the country and even some in America, we are used to doing things online. We have been doing a buddy system every week where we are given a buddy to message and chat to that week. We have also been doing Sunday morning catch-ups and workouts on Zoom as a squad, which has been an awesome way to keep connected as well," Olivia explains.
"We have been using the SPT units religiously, they have been a great way to keep us accountable during such an uncertain time. We have been able to keep track of our 3 run sessions a week making sure we hit our total km's for the week as well as our total zone 6 distance for the week".
Athletes have had to become their own performance analysts during lockdown and one of the key factors of SPT is its simplicity, which has been a big advantage for athletes who don't regularly handle their performance data.
"The SPT GPS units are awesome, I love the dashboards and being able to see all the data you need to see as an athlete. I know our S&C looks more closely into the data but it is great as a player to be able to see the data yourself so you can see what speed zones you hit in the game or training. In terms of navigating the setup it was really easy and simple which for a not so technology savvy human, is an absolute dream," laughs Olivia.
The Australian Lacrosse Association made the decision early to pause all competitions and put the health of the players and teams first. As a result, major events in the calendar like this year's National Championships were cancelled and the Lacrosse Fall Classic in Los Angeles has been postponed until January.
Although these opportunities to compete are no longer on the cards, the Women's World Champs are still scheduled to take place next year and for Olivia, her motivation hasn't been deterred and she is even more eager to get out there and play.
"I just want to play and do my country proud and bring home the gold of course! The World Cup feeling is such an incredible one and the hard work that goes into these campaigns from an athlete point of view is next to none. I just can't describe the feeling, there is no other experience like it!!
If you missed Part 1 of 'Inside Lockdown with Hayley Sofarnos', you can find it here. 
For more information on SPT performance technology, click here.