Blog
SPT Discusses Athlete Management with Teambuildr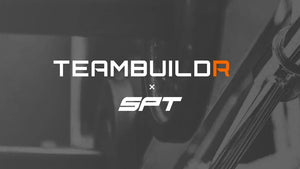 Our Lead Sports Scientist, Ben Sharpe, teamed up with the guys at Teambuildr to explore the advantages provided to strength & conditioning coaches when utilizing and combining the sports GPS data of SPT with the Teambuildr software. Ben specialises in the development and implantation of holistic athletic development programs with a specific focus on athlete preparation and staff education and assists a wide range of clients implement external load monitoring and sports science departments.
Ben's Highlights of Teambuildr:
The ability to quickly save and load programs for individual athletes and groups of athletes.
Weight room view for use by multiple athletes (engaging for athletes).
Simple and effective reporting for coaches.
Cloud based, so no need to store files on separate computers (ease of access for multiple coaches).
Athletic development is a complex and often at times misunderstood beast. Depending on who you talk to, what country they are from and what sport they exist within. These factors will have significant implications on both philosophy and practice. That is a conversation for another day. Hopefully though, there is a common theme that runs through all those environments, the importance for coaches to be able to; save time, prescribe/assess workloads and share information. Why? so coaches can spend more time doing exactly that, coaching.
Managing a squad of over 100 athletes provides unique challenges and requires myself and staff to constantly think outside the box. TeamBuildr provides an intuitive platform that has a large amount of flexibility and custom options to suit a wide range of coaches in different programs. In our case, we now have the ability to both provide programs to groups of similar athletes with the added benefit of individualised programming for those that need it (not to mention I can have multiple coaches working at the same time on the platform).
Don't get me wrong, I love the options that a piece of software like Microsoft Excel can give you and if you know what you are doing, you can create great looking and easy to use S&C programs BUT Teambuildr can already do all of that, plus more. As flexible as Excel is, having the individual file saved on your own computer makes it difficult to share and include other coaches in the program writing and reporting process. A cloud base system far exceeds that of a local storage option.
What I found extremely useful was the ability to build workout blocks (for example 4 weeks) and assign the block to either a full squad, a group within a squad or all the way down to individual athletes within a squad. To expand that out one step further, I could choose to build a 4-week block and modify that block for an individual athlete to cater for them specifically (an injured athlete for example), this can be done in only a few clicks.
I was also able to explore a range of reports that gave me some simple but meaningful insights into total volume athletes had undertaken throughout weeks/blocks etc. This is a useful tool for reflective practice as well as future planning. Reporting in particular can be a difficult module to do well. This is due to the fact that strength coaches may want different information to that of a sports coach, then couple this with the fact that everyone wants to see information in slightly different ways. In my experience with any type of reporting software/function, simple is always best. Often strength coaches can get caught in the trap of thinking metrics and reports are more valuable then they really are. As with any good strength program K.I.S.S.
Lastly, I want to touch on how loading volume from a gym-based setting can be effectively combined with a field based external load-based metric in order to gain valuable overall insights in to total athlete workloads. By better understanding the different domains and total volumes that our athletes have undertaken we can now plan training more effectively, individualise specific athlete programs and assess athlete fatigue state (and thus hopefully reduce the likelihood of injury).
With a little bit of lateral thinking coaches can take a deeper dive and explore if their weekly volumes and fluctuations in loading across an extended period of time. In the example below, I have combined total lower body loading (kg) data from Teambuildr and total high-speed running volume (m) from an SPT2 device. We are looking at a 5-week time frame. In weeks 4 to 5, we have had a significant jump in total lower body volume in the gym as well as high speed running distance. This case would warrant further investigation and be a good starting point for a conversation with the athlete to see how they are feeling. This is one basic example of how different loading domains can be combined for effective athlete management. Coaches are only limited by their imagination: investigate, implement, review and repeat.
It is my honest opinion that all GOOD coaches exist for the service and improvement of their athletes (athletic AND/OR personal development). Every coach is constantly thinking up ways to improve the level of service that they offer their athletes. To deliver a high level of service and give a high level of value to your athletes you don't need extensive budgets or 20 staff members. You need to be resourceful and have access to effective tools designed and refined for specific purposes.
Sports Performance Tracking are experts in simple, powerful and affordable GPS monitoring solutions, you can find out more information at www.sportsperformancetracking.com
Author: Ben Sharpe