Johns Hopkins Soccer Wins National Championship with the Help of GPS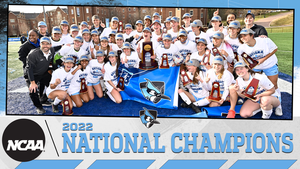 Johns Hopkins University, a place synonymous with excellence and the highest standards, introduced GPS tracking to the Women's Soccer program in 2021. With GPS tracking, the Blue Jays were able to achieve a perfect 10-0 Centennial Conference record and were ranked as high as #2 in the country according to D3Soccer.com.
That successful season set course to something magical that was about to happen in 2022. After going undefeated in Centennial Conference play, the Blue Jays won the Centennial Conference tournament and earned the Region V #1 seed for the NCAA Playoffs. After convincing wins over Lesley and Trinity where they won a combined 10-0 the Blue Jays flew to Dallas to beat Williams and National #1 Misericordia sending them to the final four in Salem, VA. The Blue Jays had a dominant 4-1 victory over Messiah and a 2-1 win in the national Championship over Case Western.
We had the opportunity to sit down with Head Coach Dan Weiler to learn more about his program and how GPS helped them this year.
#1: Workload Tracking to Customize Workouts
GPS tracking offers the unique ability to remove guesswork from training sessions. How far? How fast? How intense?
Coach Weiler was able to use GPS tracking to track the workload of his players and make sure that what they were doing in training sessions was going to help them when it came to game play. This was especially beneficial when evaluating post game training sessions. Managing the load of his athletes accurately is pivotal in making sure that they are:
1) well rested to endure the full NCAA season
2) reduce overloading and the risk of soft tissue injury
3) optimize training to peak for games

#2 Real time data during training
Evaluating athletic performances to help build better practice plans is a key component of using GPS tracking effectively, but what about in the middle of the training session?
With SPT's live tracking feature, Coach Weiler was able to look at his team in real time, right in front of him to be able to make better decisions about training.
Another great use of live tracking is return to play. While GPS can help reduce injuries, having a plan in place for when injury occurs is essential. In working with Athletic Trainers for injured players, we can assess how hard to push athletes in training and when to pull them out.
I.e. Athlete A injures their hamstring and the coaching staff decides she should go 50% in training. WIth GPS game values/benchmarks, we can assess what 100% is and therefore accurately train at 50%. Using live tracking helps Coaches understand when to remove players from competition and get them into recovery protocol.

SPT's Guide to Recovery Modalities

Live Real Time Tracking using the SPT Mobile or Tablet App!
#3 Cumulative Workload using ACWR
Acute:Chronic Workload Ratio (ACWR) helps coaches assess and monitor training-load and gain an insight into an athletes previous and current level of fitness. Thus the relationship between what has been done vs what they are now equipped to do can be understood using ACWR. [
Read full article here
]
Coach Weiler was able to use this ACWR throughout the season at Johns Hopkins to see when players might be at risk for injury because their load was spiking into the "RED." By keeping an eye on each player's ACWR, he could easily and effectively manage athletes that needed to be pushed harder, those that were in an ideal workload, and those who he specifically needed to monitor and pull back. Below is an example of how JHU's athletes fit in the different zones.
Interested to learn what SPT could do for your program, get in touch! Email

 

our

 USA 

Head

 

of

 

Sales,

 

Michael (West Coast),

 

and

 

Anthony (East Coast), or click here for a Team Quote.