Blog
The Positive Impacts of GPS Technology at St. Olaf University Men's Soccer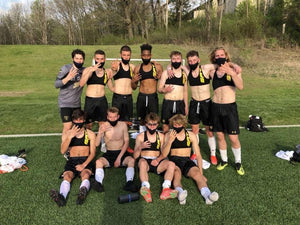 There is so much time and effort that goes into training or practicing. In the past, this effort would most likely be evaluated by a coaches "best guess" or "gut feeling." Most athletes spend 4x the amount of time in training than they do games yet they end up guessing about their performance which makes improving on that performance even more of a guessing game.
In the past few years, SPT has helped hundreds of collegiate athletic teams turn guessing into measuring, this includes the St. Olaf University Men's Soccer Program. Located in Northfield, Minnesota just under an hour south of the Twin Cities, St Olaf has burst on the national scence. A high level of teamwork, combined with science backed data was an essential weapon for the team's success in 2021. St. Olaf finished the season as the number 15 ranked team in the nation with a perfect 10-0 run through Minnesota Intercollegiate Conference (MIAC) play.
We caught up with Coach Travis Wall, the Head Coach of St. Olaf Men's Soccer, to learn more about how SPT helps them throughout their training sessions.
"Before SPT, we would rely on the guys filling out daily wellness forms that would give us an indication of where they were physically, as well as just asking them often how they were feeling," says Coach Wall.
For a team to be able to track their progress, it would be a time-consuming thing to do. Writing wellness forms, constantly checking up on each individual athlete would eat into coaches time. And although these are important factors to know, they do not paint the entire picture. Adding GPS tracking not only allow coaches to use previous methods of tracking, but simplify their understanding for actual loads of each athlete.
We asked Coach Wall, what were the key benefits you have seen from implementing GPS? 
"1. Monitoring training loads and having a better understanding of intensity and distance covered for each activity we do. Injury prevention. 
2. We were a very healthy team last year, and I think a big reason is because we had a better sense of where guys were, based on real data, not just opinions. 
3. Professionalism. There's an accountability aspect of this that weighs on the guys where they are less likely to cut corners because everything is measured." 
While GPS can help a coach get a better understand of the team at large and the benefits across 30+ athletes, it is also helpful to know specific instances where GPS was used.
"I think in instances of reacclimating guys from injury who missed a week or two, we really saw the benefits as we knew when we wanted to pull them from training to reduce training load cause we had a good sense of what they had already accomplished based on having our activities well documented for distance covered, intensity, etc.," says Wall.
One of the most important uses of data in sport is the calculation of training workload. Comparing the recent block of training to the former ones has proved useful in the reduction of injuries due to the changes in overall load.
Placing a few key performance indicators in place and being able to record them regularly reduces the chance of underperforming or overloading athletes. This kind of data monitoring process also helps the coach to identify the factors that determine success. (i.e. How much distance do we run in wins vs losses).
Investing trust, money, and time in a new technology can be a difficult decision. 
Like the hundreds of other college programs that currently use and have witnessed the power of SPT Technology, St. Olaf University Men's Soccer is one of the best examples that data driven decisions can lead to national success. 
Interested to learn what SPT could do for your program, get in touch! Email our USA Head of Sales, Michael (West Coast), and Anthony (East Coast), or click here for a Team Quote.