Pepperdine Soccer Uses GPS Tracking to reach Sweet 16!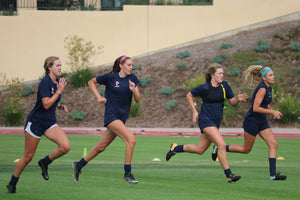 MALIBU, CA - Nestled between the Pacific Ocean and the Santa Monica Mountains, you will find one of the most spectacular views in all of collegiate sports, the Tari Frahm Rokus Field, home to the Pepperdine Waves Women's Soccer team. 
In 2019, the Wave's Women's Soccer team invested in Sports Performance Tracking to better track and train their athletes. This past season, the Waves ascended to the number three ranked team in all of NCAA Division 1 halfway through the season with key wins over then ranked opponents Southern California, Vanderbilt, TCU, Texas A&M and Gonzaga.
We caught up with Bri Holder, the Sport Performance Coach for Waves Soccer to learn about the three main ways GPS shaped the program since 2019.
#1: In-Season Analysis Tracking Game Data Non-Starters vs Starters:

"I like using the real-time data to see how many sprinting efforts and how many yards of hard sprinting each position outputs over the course of the game," Holder mentioned.
"Then after the game I can communicate with the non-starters and design workouts to help keep them at the speed/level as the rest of the players in their position. This further helps them prepare to jump into future games and have their best chance at a good outing."


This concept is used by many sport programs across the United States and the world. Oftentimes we think of GPS as only used for keeping our starters healthy, but using the GPS data from starters to help design training for reserves has been proven to be a winning strategy to keep athletes in shape and prepared for the season. Just because athletes do not play in a game does not mean they get to skip a workout. While playing time may not be up to the athlete, coaches can use GPS data to help those reserve athletes stay in game ready shape for when their name is called.

#2 Monitoring fatigue/workload:

Monitoring athlete fatigue and load are two of the most important concepts when it comes to GPS tracking. By summating all movements and all forces that athletes are subjected to during athletic performances, coaches now have a detailed metric that can be used for individual monitoring.

Holder has this to say regarding load monitoring "The data is so helpful in monitoring athlete load over the course of the week but especially between weekly games. I can quantitatively make recommendations about who needs more time off, who is good to train, and who might need limited reps etc. It also helps non-starters to have similar workloads throughout the week as their counterparts to further prepare them to perform their best when called upon."



#3 Competing with Speed


In an earlier blog, we discuss Maximum Velocity Exposure and Sprint Training citing a research study by Shane Malone published in the Journal of Science and Medicine in Sport (March, 2018) that specifically looked at high-speed running, sprinting and injury risk.

When examining the relationship between high-speed running and sprinting with injury, players who completed moderate amounts of high-speed running (701 –750m) and sprinting distances (201 –350m) were at reduced injury risk compared to players in the high and low groups.
But it's not only the amount of weekly running, there is also a need to consider how the training load changes from week-to-week. Injury risk was also greater for players who experienced large weekly changes in high-speed running (increase of 351 –455-m; and sprint distances increase of 75 –105-m).

"I like to use the top speed metric to help our team get competitive with who is hitting the top speed for the training session and for the week. All of these women are high achievers and speed is something we highly value in our program. The added incentive to win the top speed of the day and for the season is something beneficial and fun for our team," said Holder.


The Waves compete in one of the most competitive conferences in the United States where a representative from the WCC has played in the national championship each of the last two seasons. In order to stay competitive, the Waves use GPS to give their team the best opportunity to keep players healthy, game ready and ultimately to go win games!


Interested to learn what SPT could do for your program, get in touch! Email our USA Head of Sales, Michael (West Coast), and Anthony (East Coast), or click here for a Team Quote.