Ohio Football Wins 10 Games and Barstool Arizona Bowl with Help of GPS + Heart Rate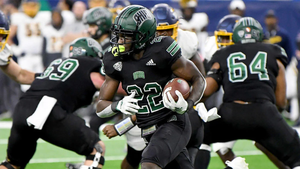 In 2021, the Ohio University Bobcats went 3-7 finishing 3rd in the MAC East and 9th in the overall MAC standings. Head Football Coach, Tim Albin and Head Strength & Conditioning Coach, Jake Miller decided to add Sports Performance Tracking's GPS & Heart Rate Tracking to the Bobcat Football Program in July of 2022 to improve the program's health, fitness, and speed. Coach Miller had used GPS at a previous institution but found other systems expensive to implement.
Fast forward to December 2022 and Ohio Football had their first 10 win season since 2011, earned a trip to the MAC Championship, and defeated Wyoming in an instant Thriller in the Barstool Arizona Bowl. We caught up with Coach Miller to learn the main ways they used the GPS and Heart Rate data this season and how they will integrate it within their off season training.
Example #1: Collection of data across all positions to help with out of season training and preparation for the loads put on the position. With the data we can train the correct speed and heart rate zones in the summer to better prepare each athlete for the stress of the position. In the winter/spring we can train the speed and acceleration needs of each position more accurately. CBs do not have as many top end speed plays a practice or game than WRs, but their accelerations are the same. Training them the same prespring ball would be a waste of work for one of the groups, so each will have specific work to complete daily on the field.
Example #2: During the season we can create an acute to chronic workload ratio to make sure that the athletes are not outside of what they are capable of. Finding that if they fall outside of about 20% of the load they are ready to perform at, we run into more soft tissue injuries during the week and joint injuries postgame. What we don't want to see is above the ratio at the game, thus heavier load practices are "off" or "limited" and below the ratio. Now you are in a cycle each week battling injuries. We would increase the workload at practices with low to high intensity running post practice or within practice (hard efforts during team periods across the field). Increasing their average workload and making the load of a game feel better. Breaking the cycle of heavy workload games and low workload week.
Example #3: Heart rate data is used to classify if an athlete is in a high stress or high workload scenario. We then can train different drills in summer and in season during practices. i.e. Backed up in your own endzone with the ball on the 1 yard line. Where are athletes' heart rates? If an athlete has a high heart rate in a lower physically demanding drive, then we rep out that scenario to train the stressful situation. Verses a 12 play drive that is under 3 minutes and is 97 yards. Now we train scenarios where heart rates are high and the physical demands are higher. Working these different scenarios throughout the year allowed athletes to be trained in a more precise environmen